Reduction of Solid Height
Reduction of solid height enables a larger stroke of a spring. Reducing the mounting height results in decreasing the dimension of the relevant parts, which saves space and reduces the weight of the parts.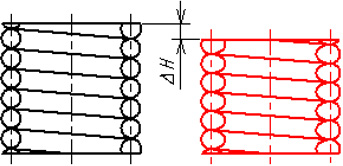 Higher Load (Lower Stress)
This design enables higher loads or reductions in stress without changing the dimensions of the relevant parts and the mounting height.
As a result, it is possible to design springs satisfying specifications that cannot be realized by conventional round wires (circular sections).